How to Fight Your Fear of Leaving Your Job To Become An Entrepreneur
If you're reading this, you've probably come to realize that the corporate life just isn't for you. You've been thinking about leaving your job to work for yourself but you can't seem to leave the security, safety, and familiarity of being an employee. Trust me, I've been there.
Going from a full-time job to a business of your own is a scary transition, therefore, you need to have a solid plan in place. As a potential entrepreneur, you should identify the problems that you could come across and where you could go for help. You should also have the right resources to dig into if you face these challenges in order to avoid failing. Read more at StartUpMindset.com.
Escape the "Shecession" and Start a Business
The impact of COVID-19 on American businesses has been significant, but women have been affected more than most. According to the Institute for Women's Policy Research, at the end of 2020, women's jobs on non-farm payrolls were 5.3 million below February's pre-COVID levels, compared with 4.57 million fewer non-farm payroll jobs for men.
This trend has been labeled a "shecession," and, even as the economy seems to be heating up, no one really knows how long it will last. Read more at SmallBizTrends.com.
67 Startup Statistics You Need to Know in 2021
Building a startup requires a vision for your business, an opportunity in the market, a deep understanding of the landscape—and a whole hell of a lot of work. We know, because we're building Unstack now, too.
That's why we compiled 67 of the most important startup statistics, covering funding, founders, marketing, and more. We were curious and wanted to learn what the last year's looked like for startups, and we wanted to share that in case it's helpful information for you, too. Read more at Unstack.com.
Welcome to The Social Geek Radio Network.
Get in touch with your inner geek. Jack Monson and many special guests discuss social media and digital marketing trends for brands, small businesses, and franchises.
Social Geek Radio was listed as one of 20 Best Business Podcasts according to Emerge and was named to the Best Small Business Podcasts by FitSmallBusiness.com. Recently, Social Geek Radio finally made the Top 25 podcasts in the Marketing category of Apple Podcasts / iTunes.
Listen, download, subscribe to Social Geek Radio!
Daily Message from Acceler8Success Founder, Paul Segreto
Yesterday, I noticed the closing of yet another local restaurant. Once again, this caused me to pause and quite frankly, to shed a few tears. It's a very sad day when any business closes its doors. The ripple effect is widespread as it affects more people than most might imagine. This restaurant had approximately thirty employees. Plus, let's not forget vendors & suppliers and others that served or were dependent upon the business as part of their own survival.
Decisions made towards closing are difficult as often there's a domino effect to consider. Of course, there's an emotional component regardless of the size of the organization. There's a level of complexity that is not realized by anyone outside the management and/or leadership circles.
No one lives for failure. It's difficult at all levels. Many people will be dealing with ramifications as a result of this closing long after some other business opens in that location. To that end, I wish all who are adversely affected nothing but the best as they take their next steps and explore their options. My thoughts and prayers are with them all!
30 Business Articles Every Entrepreneur Should Read
1. 57 Questions to Ask When Buying a Business
Entrepreneurs need to start somewhere, and the best way to start might be by purchasing an existing business. This article uncovers the 57 best questions to ask before you buy a small business.
2. These are The Dumbest Things Entrepreneurs do
Recently valued at over $4.1B, Mark Cuban knows a thing or two about building great businesses. In this article, Cuban implores new entrepreneurs not to fall into three, easy-to-miss traps.
3. The Ultimate Guide to Small Business Trends
To increase sales, serve customers better, and operate more efficiently, you need to know what's coming next. Read about the immediate and distant future of small business in this ultimate guide.
4. What Makes a Leader?
Business owners are many things, but first, they're leaders. In this article, Harvard Business Review discusses what a leader looks like, and how you can improve your leadership skills.
5. Why You Hate Work
Just 13 percent of workers worldwide report feeling fulfilled at work, so it's no wonder so many people hate their jobs. As a business owner, you need to cultivate an environment that gives employees what they need to be fulfilled — this article provides a roadmap.
Read about the remaining 25 top business articles at ForaFinancial.com.
"Whatever the mind of man can conceive and believe, it can achieve." – Napoleon Hill
How to Become an Entrepreneur: 7 Steps You'll Take on the Road to Entrepreneurship
For so many of us, going into business for ourselves is the ultimate dream. We crave the creative control, flexible hours, and the freedom that comes with being an entrepreneur.
But there's a lot of work involved behind the scenes, and much of becoming an entrepreneur is about planning, strategy, and then dedicated execution. If you've always wanted to get into the game but haven't been sure how to, we've created this resource as a jumping off point. Read more at Shopify.com.
Franchise Foundry is seeking experienced operators and investors for fast-growing restaurant brands. Single, Multi-unit & Area Development Opportunities. Wide investment range starting at $150k. New Operating Partner Program! Learn more and inquire at FranchiseFoundry.com.
If You Want to Be a Successful Entrepreneur, Take Note of These 7 Lessons
One of the main objectives of creating a business is related to the generation of wealth: for the environment, for society and for the business owner. The generation of wealth is related to money and its correct management. Many entrepreneurs start their business as operators or technicians and never delve into money management. That makes their businesses stay small or not survive over time.
Many people think that all they need to start is a good idea. Unfortunately it is not like that, good ideas abound everywhere and are destined to die, if you do not have an entrepreneurial mindset. Creating a new business requires hard work, high tolerance for frustration, being willing to carry on when it seems like all is lost, implementation, implementation, and more implementation. But above all, it requires an obsession to achieve your dreams, more than an obsession to generate money. If you look for money, your chances of success will decrease (because at the beginning you won't have it). If you seek to transform people's lives and make a change on the planet, money will come as a consequence. So do you or do you not have an entrepreneurial mindset? Find out at Finace.Yahoo.com.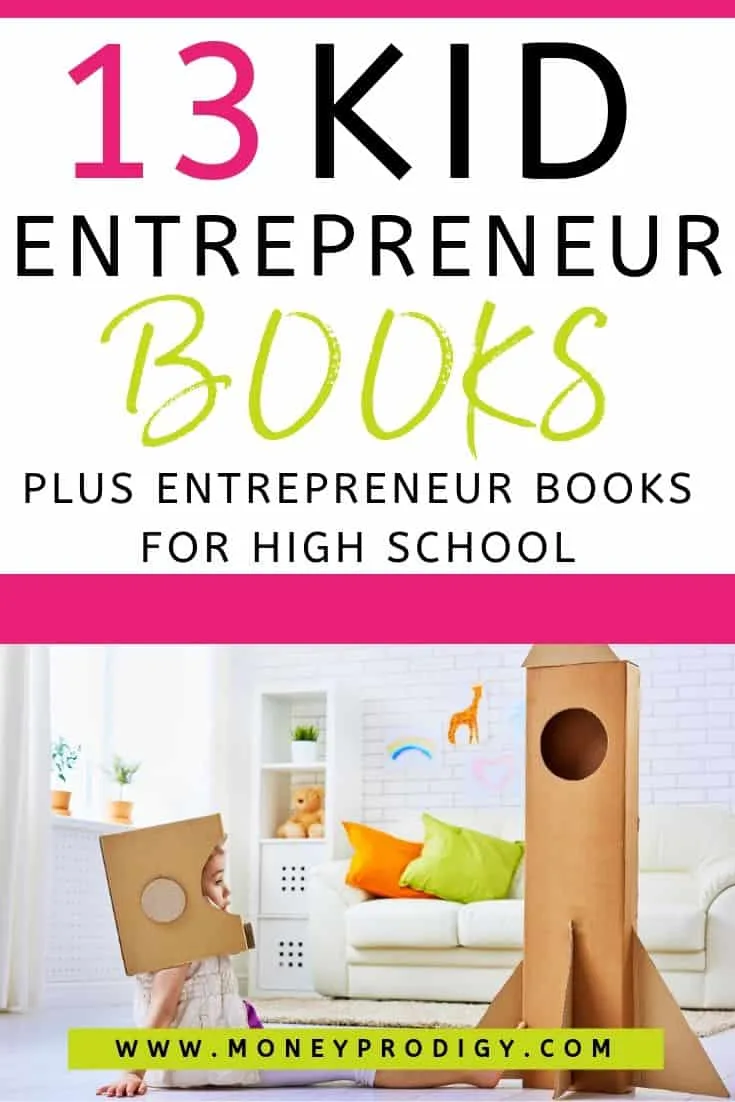 14 Kid Entrepreneur Books and Entrepreneur Biographies for Kids
Kid entrepreneurs are popping up everywhere. And the market appears to be highly ready to receive them, as many have "hit it big. Take Leanna, for example, who was constantly being complimented about her hair at around the age of 11.
The secret sauce? She actually was making her own homemade hair products. She saw an opportunity for her homemade hair dressings, hair butters, and shampoos (all free of sodium lauryl sulfate, parabens, and lots of other mainstream chemicals) and opened up her company, Leanna's, Inc. In 2010, she raked in $100,000 in profits, and in 2011, that number was more like $300,000. Read more at MoneyProdigy.com.